Cardinal Health Ultraderm Surgical Gloves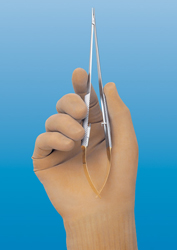 Ultraderm®
Powdered Latex Surgical Glove
Cardinal Health Ultraderm® gloves are ideal for those who require a glove material with reduced concentrations of chemical accelerators that are known to be potential sensitizers. These gloves have reduced amounts of natural rubber latex proteins. Ultraderm gloves with enhanced comfort are constructed with a three-plane mold design and tapered fingers. The anti-slip finish offers excellent grip properties when handling instruments and the tapered cuff helps keep the glove firmly in place. Packaged in the smaller, easy-to-store Cardinal Health pack.
Contain 50 micrograms or less of total water-extractable protein per gram
8.7 mil average finger thickness
Tapered cuff prevents rolldown and helps glove stay in place.