Ansell Derma Prene Ultra Surgical Gloves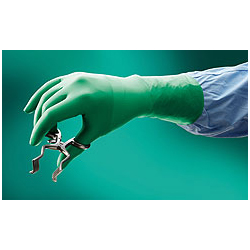 Derma Prene® Ultra
Powder-free Neoprene Surgical Glove
DermaPrene® Ultra is constructed from a unique blend of neoprenes to provide outstanding flexibility and stretch levels in use. As a powder-free glove, the DermaPrene® Ultra also limits the potential risk of dermatitis for the wearer, and of granulomas or adhesions for the patient.
High resistance to alcohol and a broad range of chemical products
Greater resistance to tear and puncture than most latex and other synthetic gloves
Prevents Type I allergies, because it's free of latex proteins
A water-based (polyurethane) synthetic inner coating that incorporates both hydrophilic and hydrophobic components ensures easy donning, with dry or damp hands.
Downloadable Literature:
Technical Data Sheet (.pdf) | Product Sell Sheet (.pdf)