Biogel PI Surgical Gloves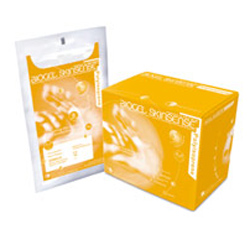 Biogel® PI
Powder-free Polyisoprene Surgical Glove
Spinning from the sucess of the Biogel latex surgical gloves, the Biogel PI is the next generation of latex-free surgical glove made from the synthetic material polyisoprene. Like the original Biogel surgical glove, the Biogel PI gloves are manufactured to give the excellent fit the Biogel brand is known for. Polyisoprene is the unique material that feels and stretches as well as latex without the harmful allergic properties latex is notorious for.
The Biogel PI has become the new synthetic glove of choice because polyisoprene feels better than neoprene. The one drawback is the price of the Biogel PI or any polyisoprene surgical glove. Since the market for polyisoprene surgical gloves is relatively new, these gloves are priced the highest in today's surgical glove market.
As with all Biogel surgical gloves, the Biogel PI utilizes its proprietary inner-coating polymer which provides easy, quick donning. The combination of the polymer of elasticity of polyisoprene makes putting on the Biogel PI surgical gloves an effortless task regardless of whether your hands are dry or damp.
Downloadable Literature:
Technical Data Sheet (.pdf)